Castles, the product of the enormous effort of the Kings, Nobleman and their people. Why then? You might ask, are so many castles abandoned today?
Ancestors abandoned castles for their military inefficiency due to weapon evolution. They didn't offer the comfort of living as a new lavish palace could. Today, the most common reason is the high cost of maintaining a castle or a palace forced the owners to abandon them.
Unfortunately, there are many castles left alone. You will be surprised that each country has a good number of abandoned Castles.
Why are there so many Abandoned Castles?
By castles, we mean the fortified buildings built mostly between the 11th and 15th centuries. Nevertheless, there are palaces and manor houses forbidden also.
The Middle Ages is the period when Castle-building was at its peak across all European countries.
All the kings and noblemen felt the necessity for a more robust fortified house for themselves and their people for defence against enemies.
Nothing new to anyone that back then, the war was a usual business for most kingdoms. At a certain time in their reign, every king tried to acquire some new lands.
But as we all know, towards the 13th-15th centuries, with weapons evolution, the castle became less safe, as a couple of cannons could take down its walls in hours.
Many of these magnificent buildings withstood through the centuries and have been well looked after, but others fell in disrepair.
In countries like England, Germany, France, there is a significant number of ruined castles awaiting the day when governments will allocate a grand for restoration.
Below we have gathered some glorious abandoned castles that are well worth a visit.
Abandoned Castles Wales
As you probably know, Wales has the most castles per square mile, more than any other country.
If you find yourself somewhere around Snowdonia's mountains, there's most likely a castle not far, below you'll see some of them.
Carew Castle, Pembrokeshire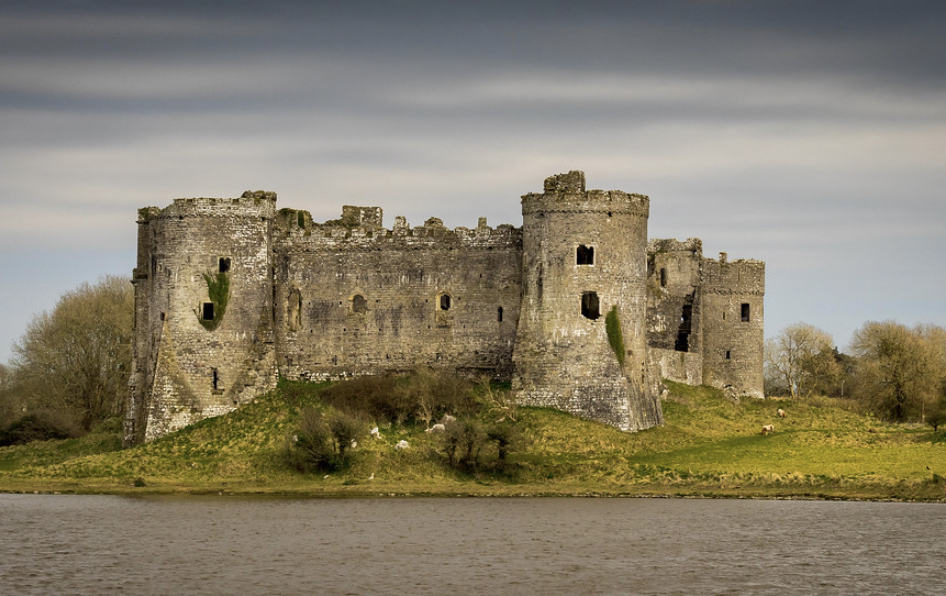 Carew Castle is a stunning fortress in Pembrokeshire that still belongs to the Carew family, which lease it to Pembrokeshire Coast National Park for looking after.
The Carew Tidal Mill in the vicinity is the only restored tidal mill in Wales and one of the six in the UK.
Gwrych Castle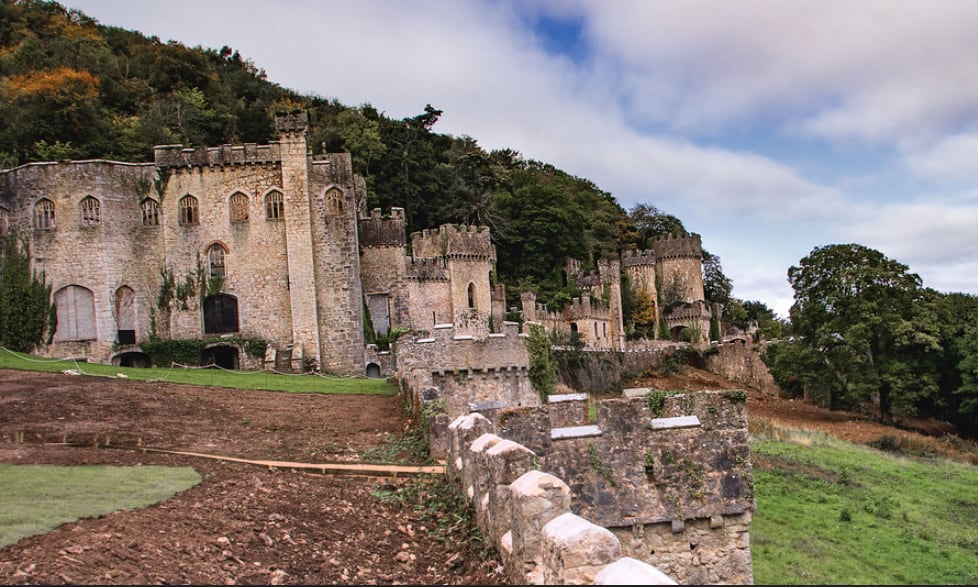 The Gwrych Castle aspect motivated the producers of a famous UK TV show, "I am a Celebrity Get me out from here", to use the site for filming.
Lloyd Hesketh Bamford-Hesketh founded Gwrych Castle between 1810-1825 in memory of his mother Frances Lloyd and her ancestors.
The castle is open to the public with Guided Tours that are highly rated.
Carreg Cennen Castle, Carmarthenshire
As tough as it looks, Carreg Cennen is officially the most romantic castle in Wales, voted by the readers of the Countrylife Magazine.
Presumably, John Giffard founded the castle towards the end of the 13th century on top of the cliff overlooking the River Cennen.
The castle is open to visitors and is in the care of the Welsh Government historic environment services.
Raglan Castle, Monmouthshire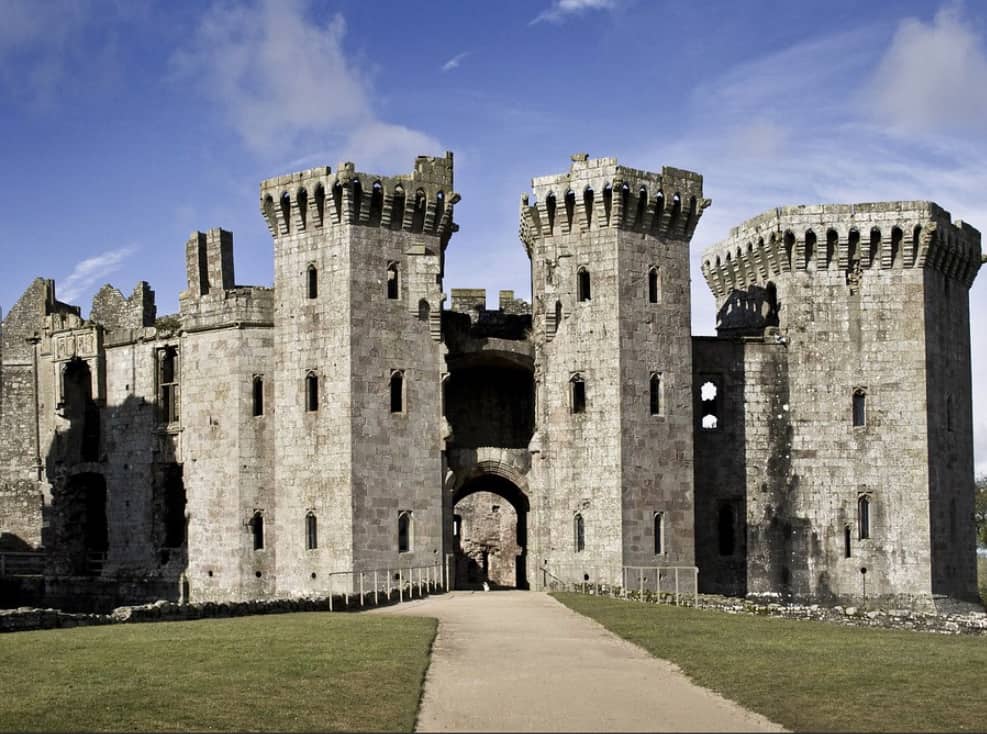 But the castle we see today, William ap Thomas, started to construct at the beginning of the 15th century.
Raglan is one of the most visited castles in Wales for its iconic, unmistakable architecture, which takes your breath away.
Laugharne Castle, Carmarthenshire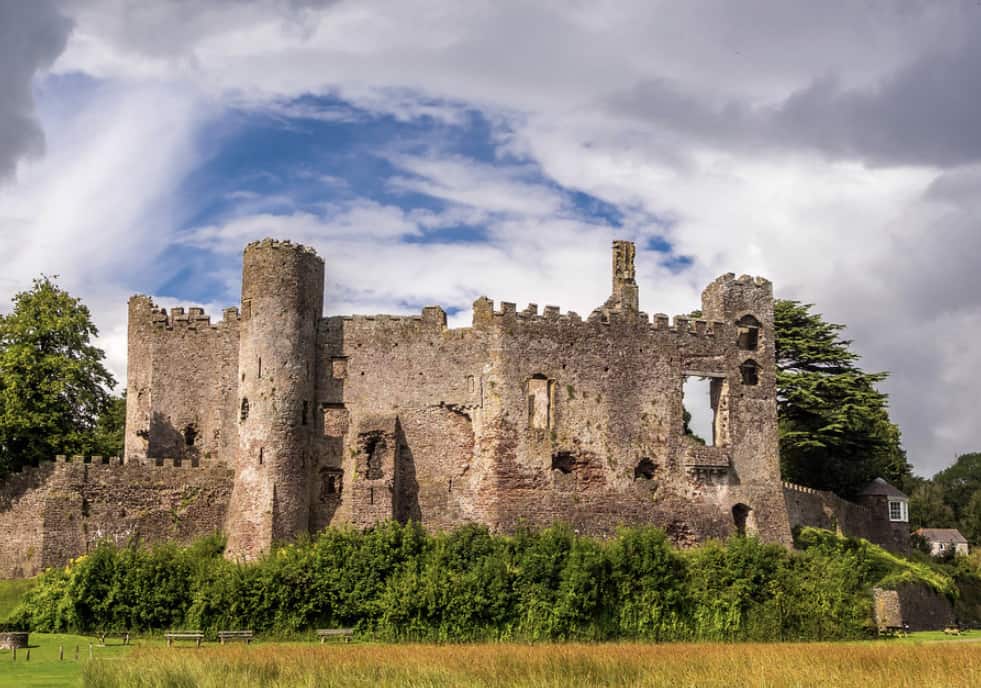 Another Medieval ruined Welsh gem that forces you to ask questions ones there;
How come such a building is abandoned?
Who or what forced the owners out of it?
Established originally in 1116 as the home of Robert Courtemain, it was rumoured that the castle might be burned down in 1189.
Later in 1215, Normans rebuilt the castle, which the Welsh army captured and granted to the De Brian family.
The Laugharne Castle, like many other castles, has been swapped a couple of times between English and Welsh during the civil war.
Today another romantic ruin worth seeing.
Abandoned Castles in Scotland 
Scotland, a land quite similar to Wales when it comes to mountains and ruined castles.
A country with rough wheater and a turbulent medieval past has left behind a long tale of ruined castles.
New Slains Castle, Cruden Bay
It is a long way to go if you're not from Scotland, but if you are on the route to Aberdeen, it is worth stopping by.
Slains Castle is a ruined 16th-century tower house with significant reconstruction over the next centuries.
Today is a roofless ruin that overlooks the North Sea, a perfect free of charge day out for the whole family.
It's believed that Bram Stoker got inspired by Slain castle's octagonal great room when describing Dracula's castle's great room. 
Keiss Castle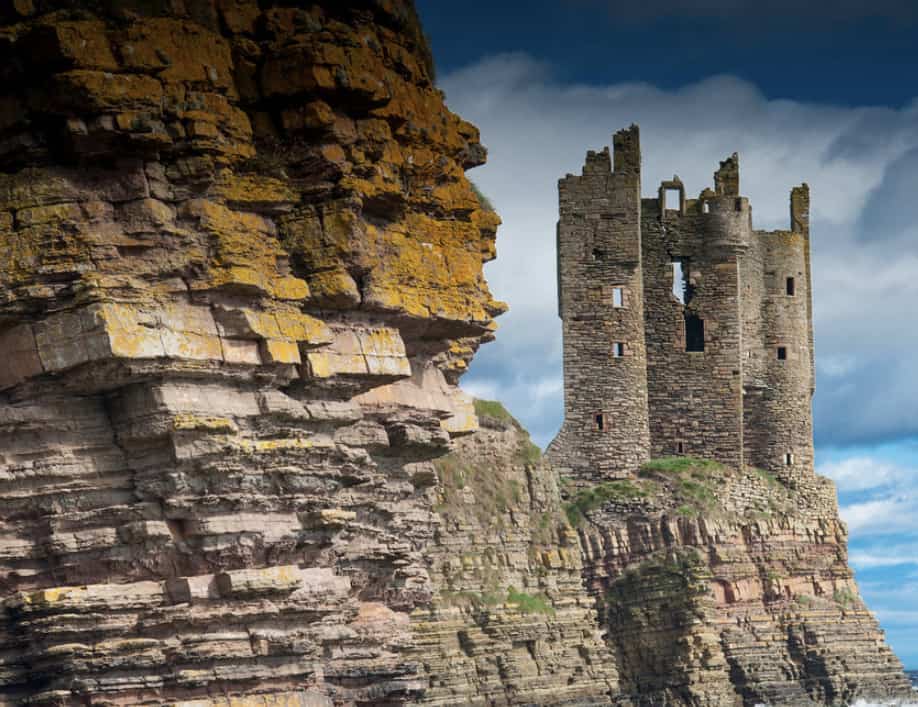 In my opinion, one of the most dramatic castles in Scotland, which we can't wait to visit and take some gorgeous shots.
Keiss Castle's current structure was built in 1755, replacing the old building, but sold in 1765 due to the financial difficulties of Sinclairs' nearby Ulbster.
Because of its location, Keiss Castle played a significant role during WW2 as a defence against a threatening German invasion from occupied Norway.
It's definitely worth a trip as we never know how long Keiss will resist waves' aggression before falling into the North Sea.
Dunnottar Castle
One of the most visited dramatic haunting ruined castles in Scotland, photographers and drone pilots flock to Dunnottar daily to picture it from all possible angles.
Survived buildings were founded in the 15th -16th century, but the earlier fortifications date back to the beginning of the Middle Ages.
Castle is open to guests in non-pandemic times. Tours are also available often but make sure you book in advance.
Urquhart Castle
A 13th century ruined castle, Urquhart played an essential role during the war for Scottish independence.
Built on top of an older medieval fortress, Urquhart overlooks the world-famous Loch Ness freshwater reservoir.
The road trips to this part of Scotland are breathtaking, and it's well worth giving it a drive and stopping for all the castles.
Torwood Castle
Just 30 miles from Edinburgh, you'll find left alone the ruins of Torwood Castle, a 16th-century L-plan castle.
If you are a castle enthusiast and love to walk, this place is a mixture of both.
There are tours available in non-pandemic times.
Abandoned Castles in France 
France is the homeland of motte-and-bailey fortifications, a French invention that spread across England during the Norman invasion.
Unofficially in France, you will find over 40 000 castles, and of course, Frenchmen have also managed to abandon plenty.
Château Gaillard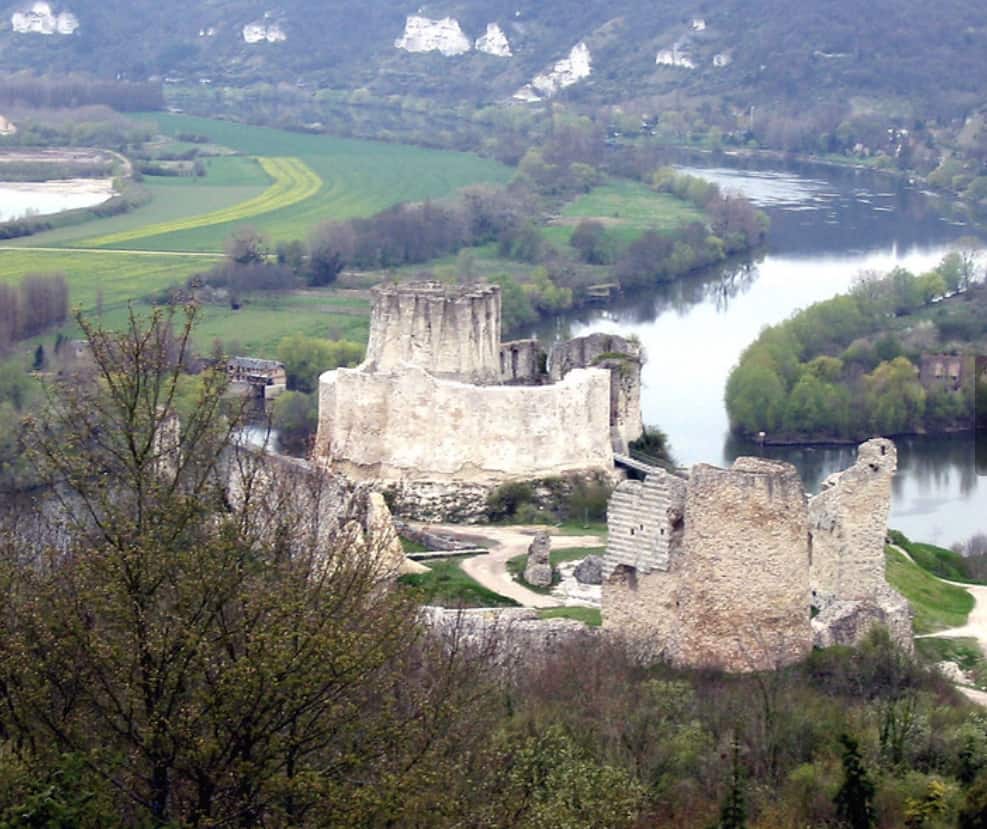 An English Castle that Richard the Lionheart built in 1198 was simultaneously King of England and Normandy's feudal Duke.
Don't forget your comfy walking shoes when visiting as there are good 10-15 minutes walk to the ruins, but the castle and the surrounding view is well worth it.
Chateau Peyrepertuse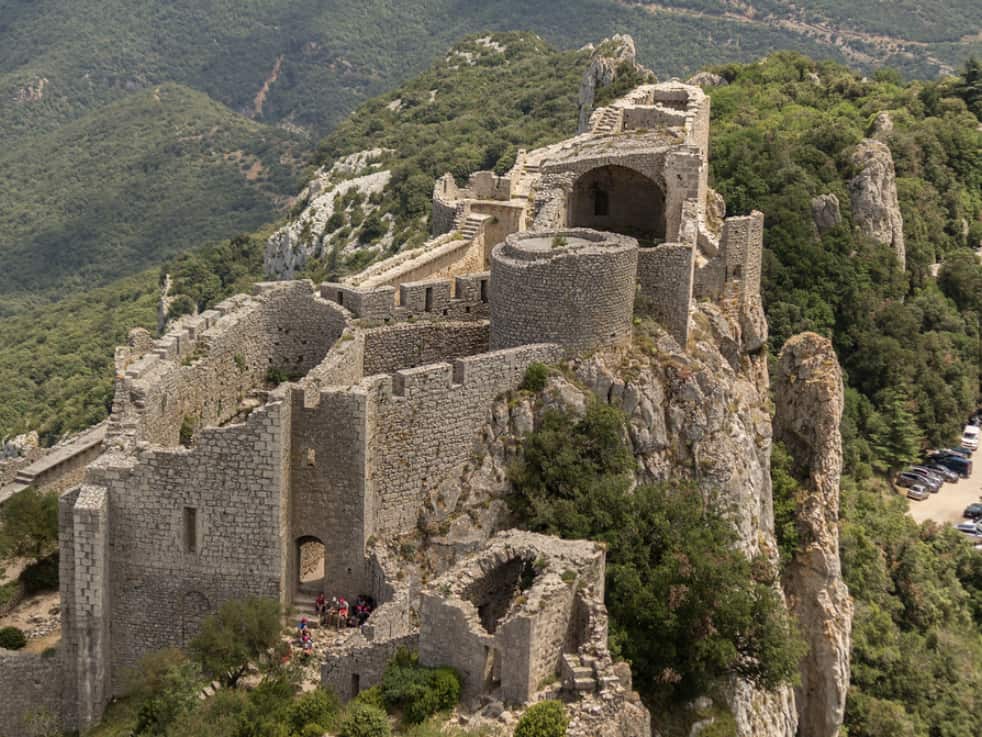 Peyrepertuse is an 11th-century castle, which is one of the most visited ruined romantic castles in the south of France.
Its strategic location at an altitude of 800m allowed its habitats to see far into the valleys and control the mountain passes.
Around 100 000 visitors a year flood to Peyrepertuse castle to experience one of the famous Cathar fortresses.
Château de Ranrouët
Another ruined noble residence hidden among the oak trees is Ranrouet Castle.
Built in the 13th century and improved up until the 17th century, it suffered significant damage during the French Revolution.
Today it entertains its guest with theatre performances from Easter to Halloween.
Château de Largoet
The first castle chronicles mentioned in 1020, but the ruins we see today Frenchmen built between the 13th and 15th centuries.
Also known as Tours d'Elven (Elven Towers) has a well-preserved gatehouse and two towers which you can visit for a 5€ price.
Château Fort de l'Ebaupinay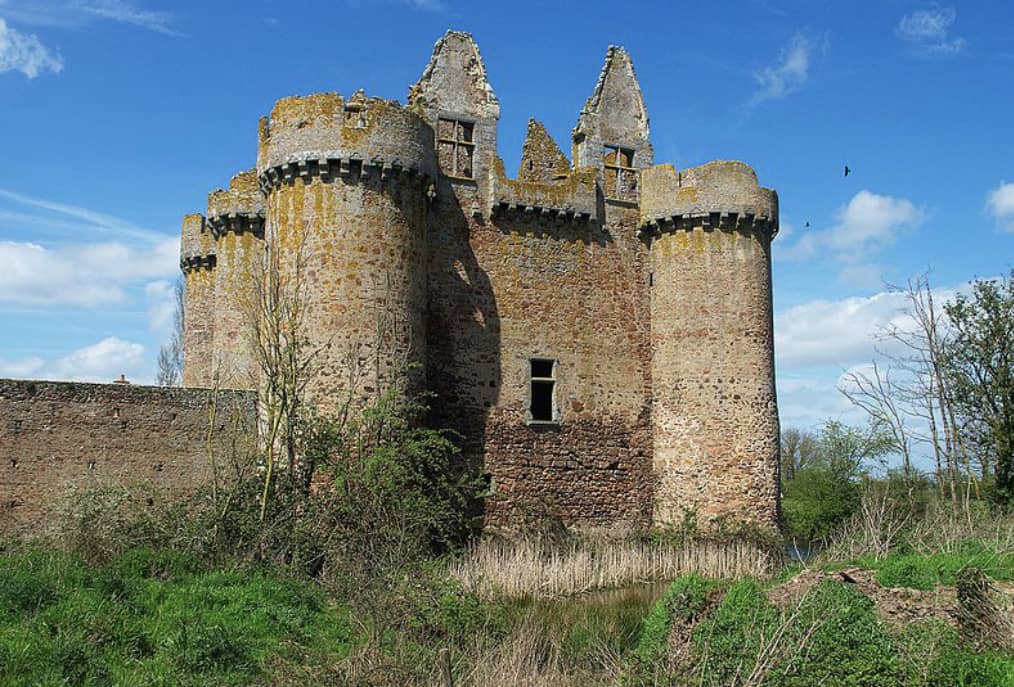 Lord Vendel built l'Ebaupinay castle between the 14th and 15th centuries.
Today the castle is partially restored, and current owners are well looking after organising tours and events to promote it.
Abandoned Castles Italy
Italy, the homeland of a great Roman military architecture, which dates back way before the Middle Ages.
However, same as their northern neighbours, they never stopped building castles until the 16th- 18th century, with a good number left lonely today.
The Italian government even came up with a plan to give the forsaken castle and homes for free.
Here we found a couple of Italian ruined castles you might consider visiting.
Castle of Rocca Calascio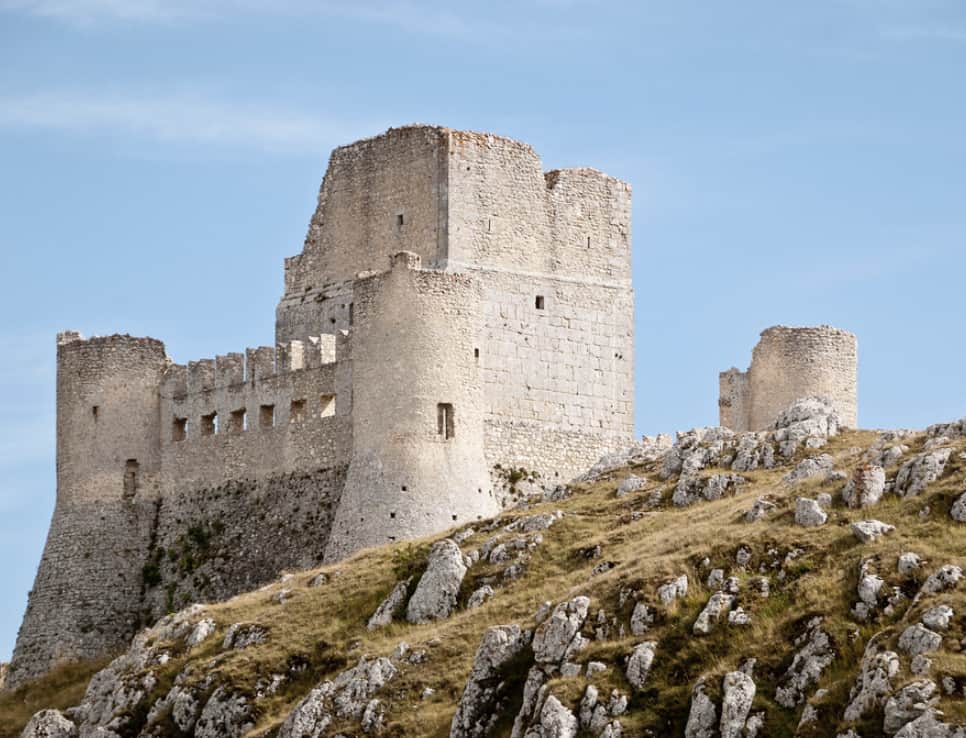 The castle of Rocca Calascio is a 10th-century hilltop fortress at 1460 meters high in the Province of L'Aquila, Italy.
In the beginning, it was just a watchtower later updated to a mighty fortress with four circular towers in each corner.
Castle Rocca Calasicio's initial objective was to host a military garrison and never for nobles, which probably is the main reason it's inhabited today.
Castle of Stilo (Castello Normanno)
Castle of Stilo, also known as Norman castle, which Roger I of Sicily built in the 11 century in Stilo, Calabria.
Part of a chain of seventeen castles in Calabria in the 13th century, also used as a prison in the past.
If visiting, be aware there is a challenging hike uphill, yet, the view is well worth it.
Castel Cardinale – Tuscania
Between Tuscania and Viterbo overlooking the spectacular landscape, you will find Castel Cardinale on top of a small mound crowned by pine trees.
The building has now a complete ruined central keep but better preserved outer walls, a magnificent fortified residence built between the 13th and 15th centuries.
Castello del Drosso in Turin
An abandoned castle on the outskirts of Turin with no remained evidence when the castle was initially built.
It might have been built on top of an older Roman Villa, fortified in the 14th century and transformed into a noble residence in the sixteen century.
Is Italy still giving away castles for one euro?
Italy is giving away castles, old villas and homes under the "Castles for one euro" program. The project is designed to repopulate the small Italian municipalities where the buyer is responsible for restoring the property in the allocated time frame specified in T&C's.
The project started initially ten years ago in Sicily. Currently, 25 municipalities have adopted the project and have already sold hundreds of properties to Italian citizens and people abroad.
For more detailed information about the project and properties available at the time of reading this article, please check the casea1euro.it
Final Thoughts
There is a way more abandoned castle around the globe, sadly falling into disrepair and awaits for its lucky day to get restored.
Thanks for stopping by; we hope this article was valuable to you. Don't forget to check out our blog section for interesting facts about castles.