As soon as William invaded England in 1066, he started to build castles at an unprecedented scale. But what castles did William the Conqueror build during his campaign?
William, the Conqueror during the Norman invasion, built the following castles: Pevensey, Dover, Tower of London, Windsor, Warwick, Chepstow, Old Sarum, Durham, York, Norwich, Colchester, Warwick, Lincoln, Nottingham, Corfe and many other castles that haven't survived until this day.
Bellow, you can find out more about how William's castles were back then and which ones you can still visit today.
William's Motte-And-Bailey castles
After proving themselves as effective war machines in France, Norman castles played a critical part in William's invasion strategy.
Sure, England had some military defence before 1066 like Roman forts and fortified towns designed to defend a larger settlement of civilians.
On the other hand, William's motte-and Bailey strongholds were smaller and much taller than could defend a small army and were much harder to breakthrough.
Moreover, the motte-and-Bailey were fast and cheaply built using local materials which was a significant factor of success during the campaign.
That's why you may find many Norman castles built on top of ruins of a Roman fort using its stones as building materials.
Some historians emphasise that English men indeed have been impressed if not astonished by this rising number of fortresses above the villages and towns where usually the locals could see them in full embodiment.
With this, the Normas has made it clear then; "They are here to stay!" 
So if you thought of adding castles that William built to your bucket list, then the information below might be helpful.
Pevensey Castle 
Pevensey was the first Castle that William the Conqueror started to build in England when he arrived in September 1066.
He built the Motte-and-Bailey design by adopting the ruins of the Roman fort dating back to 290AD.
Today the castle is a scheduled monument in English Heritage care, and it's open to the public.
Hastings Castle 
After the Pevensey William moved to Hastings where he quickly built a second castle on top of an Iron Age fort awaiting King Harold 
Godwinson with his army.
King Harold was marching from the north after a battle with Vikings a few months back.
Yes indeed, wasn't the perfect time for Anglo-Saxons to resist another invasion.
However, the English army fought the Normans for nine long hours in one of the bloodiest English history battles.
 Despite that English fought bravely and were unwilling to give up, William defeated Harold only a few miles north from Hastings castle.
Sadly there is not much left from the castle today except a few walls overlooking the English Channel.
Dover Castle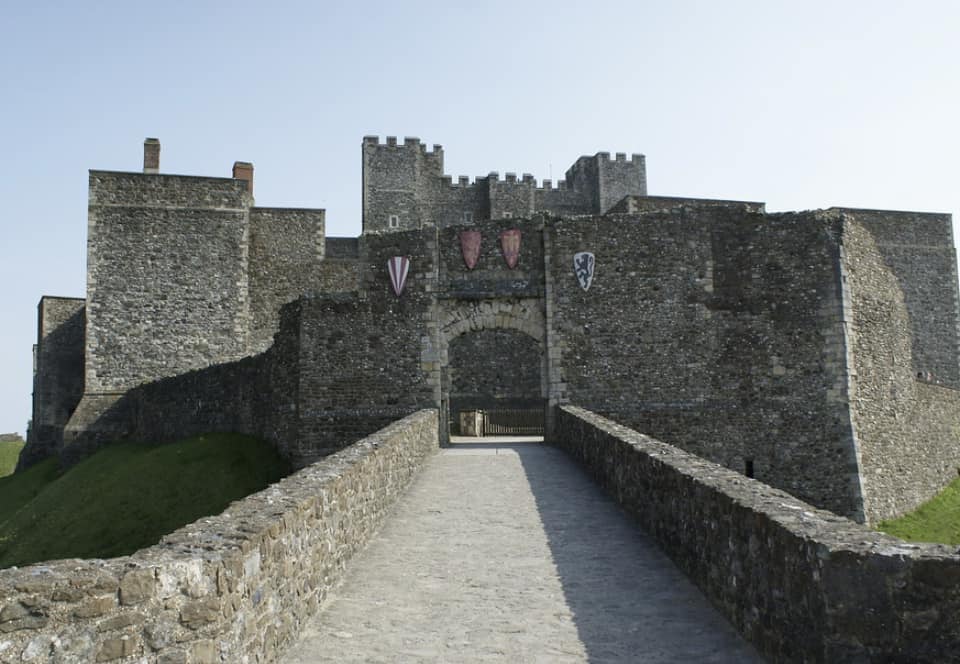 After the Hastings victory, William marched his army to London, but he took a roundabout through Dover.
The Duke burned Dover castle completely and built a new building entirely out of clay.
He saw Dover castle's importance, later called "The Kew to England" in guarding England against enemies from the continent.
Today Dover is one of the largest and well-preserved castles in England, a famous tourist destination.
Tower of London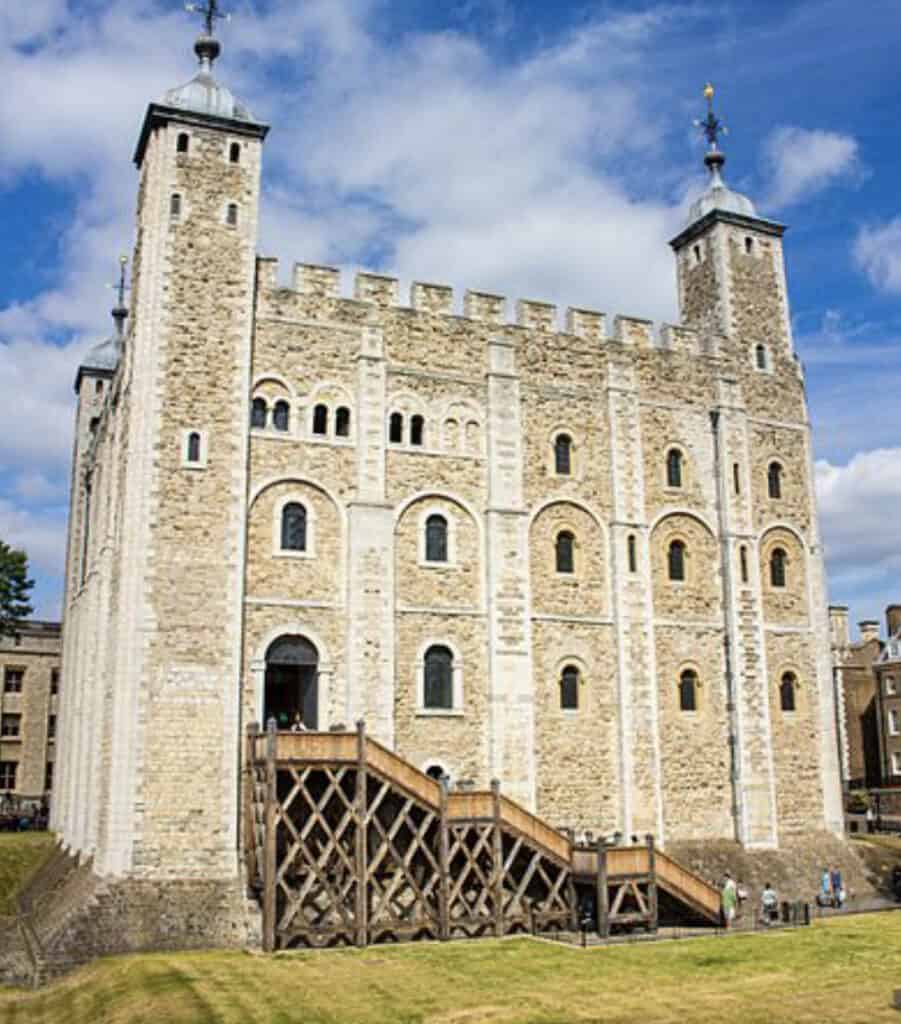 After the Capital's submission to Normans and William's coronation in December 1066, he quickly launched another project.
He embarked upon building what later will be called one of Norman military architecture's most outstanding examples, the White Tower today's "The Tower of London".
Starting with a wooden structure and then shortly replacing it with stone, William built not just an ordinary castle but also a symbol of oppression which the new government imposed.
Being besieged a couple of times, it has a strong defence made out of two concentric curtain walls and a moat, which made it one of the most impregnable castles.
Today William's Tower is a major tourist attraction in England's Capital with almost 1000 years of history behind its walls. 
Windsor Castle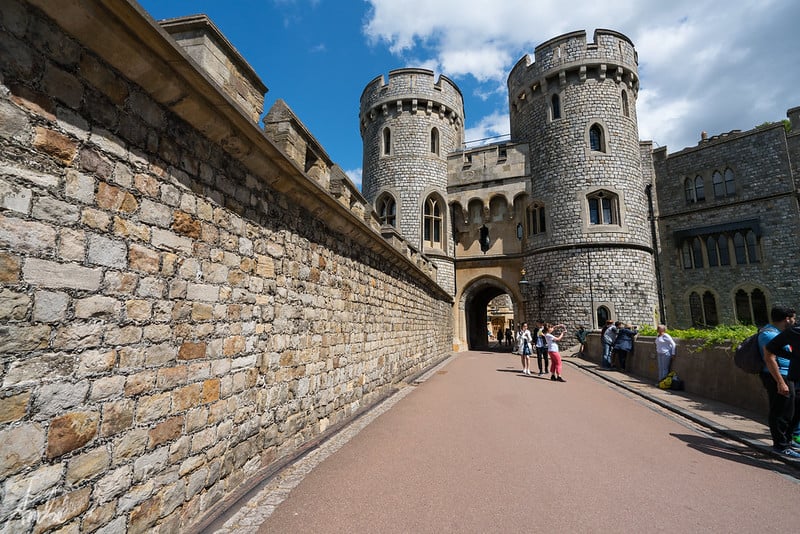 It's believed that Windsor Castle had its beginning a decade later after William arrived in England.
He built Windsor Castle mostly for strengthening Norman power in the outskirts of London.
Today Windsor is one of the most iconic landmarks in England, earning popularity for being the oldest habited castle in the World and weekend residence of the most famous royal family.
You can also enjoy the great courtyard, abbey and history of the building in just 25-45 minutes from central London.
Warwick Castle
Advancing North, William kept planting castles one after the other, occupying the strategic location on the key routes, crossroads or bend of a river.
Warwick built in 1068, wasn't an exception from the Duke's motte-and-bailey portfolio of castles, located in Warwick's town on the River Avon bank.
Warwick today is one of England's most beloved family-friendly castles, offering a range of activities that can keep you within the castle for a whole weekend.
If you have time available and heading south after visiting Warwick, you might want to check the smallest castle in the world, which is just a half-hour drive from Warwick castle.
Chepstow Castle 
Judging how quickly the events succeeded during the conquest, we can see that William grasped the importance of speed.
In 1067 under the command of William FitzOsbern (William the Conqueror close counsellor) they erected a stronghold with the astonishing speed at the border of England and Wales on the west bank of the River Wye.
FitzOsbern built Chepstow Castle straight out of stone structure compared with all other previously wooden built fortresses.
Worth visiting? 
Definitely!
Please don't get confused but the ruined look of the castle, the structure that's still standing shows us that it was a glorious building.
Old Sarum Castle 
Two-mile north from Salisbury the Old Sarum's story dates back to 400 BC when by chronicle affirmations there was an Iron Age Hill Fort.
Later on ( Ad 43) in the same place a major Roman fort, known as Sorviodunum.
William I also saw in the Old Sarum potential, and he built an impressive motte right in the middle of the settlement on top of a hill.
Sadly it felt in ruins over the last centuries, but it's still a hidden gem for anyone loving walks and history.
Durham Castle 
Six years after the conquest and shortly after arriving at north King William ordered the building of a new fortress.
In 1072 under the supervision of Waltheof, Earl of Northumbria, construction of Durham Castle began.
Today, Durham Castle is well looked after by UNESCO world heritage and the University of Durham.
During the day and magnificent in the night, a stunning castle thanks to lightning highlights the facade in the dark.
Durham Castle is definitely worth a trip as it has plenty of activities for a whole family!
York Castle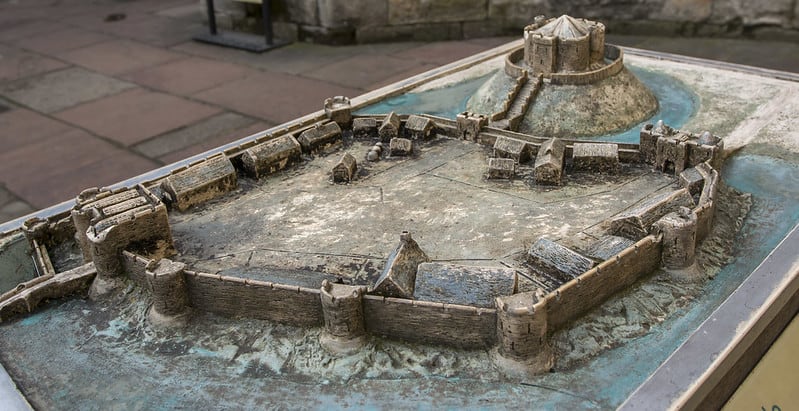 Another castle that appeared in the aftermath of the Norman expansion to the north of England is York Castle.
Built in 1068 in the Center of York, a Viking capital not long ago, it is rumoured that Normans built it in 8 days.
Moreover, it's faced an immediate challenge by getting attacked by local rebellions, which motivated our Duke to build even more Castles in York.
Today the York Castle is called a complex of castles, prisons, law courts and other buildings built for nine centuries.
The best way to experience York medieval architecture is to choose from tours available on trip advisor designated to the specific part of York's history.
Norwich Castle
William found the Norwich Castle somewhere between 1066 and 1075 when he embarked upon a campaign to subjugate East Anglia.
Norwich Castle also was mentioned in the Domesday book along with other 47 castles.
In 1894 Norwich Museum moved to Norwich Castle and has been the museum ever since.
Norwich museum is now well famous for its Viking and other exhibitions happening in August, probably the best time to visit the castle.
Colchester Castle
We can clearly see William I wanted to have a stronghold in every English town and other strategic locations.
Colchester wasn't an exemption; moreover, it's also built on a ruined Roman temple, the Temple of Claudius.
By the seventeenth century, the castle felt in disrepair and partially used as a prison.
Colchester Council bought the castle in 1922 and has since hosting the Colchester Museum with an important Roman exhibit.
Nottingham Castle
Then, a wooden motte-and-Bailey built in 1068 on top of a cliff called "Castle Rock" which King Henry II upgraded to a mighty stone stronghold later on.
Today a major tourist attraction in the heart of one of the most famous English cities thanks to Robin Hood's legend.
In 2018 we had a fantastic experience at the castle enjoying the museum, history, the castle itself and the view of Nottingham.
Now we plan to revisit it as the castle went through a 30 million pound redevelopment between 2019 and 2021, and it promises a whole new experience.
Corfe Castle 
Another legendary landmark with a colourful and long footprint in England's history is Corfe castle.
Moreover, there is evidence that Corfe village has been occupied in 6000BC by civilisation from Europe.
It also sheltered Celtic, Vikings and Saxon communities that left their mark on this place in the following centuries.
But William the Conqueror was the man who erected the castle we see today and made it one of the significant elements in his castles chain.
Corfe was one of the first castles to be modified to a stone structure indicating its strategic role in defending its links across the channel with the Norman homeland.
Sadly in March 1645, the Parlament ordered its Slighting (making it useless from a military perspective).
Today the National Trust owns Corfe Castle and is open to the public since 2018.
The Final Thoughts
Even today is mindblowing what William the Conqueror managed to achieve nearly 1000 years ago, by bringing to its knees a Kingdom which one will be called the largest Empire in human history.
The Castles, as we can see now, were his best allies in the campaign.
Thanks for stopping by and reading the article, your visit means the world to us!
Related Questions
How many castles did William the Conqueror build?
As a result of the Norman Conquest, William and Norman built nearly 700 castles between 1066 and 1087 in England and Wales.
Why did William need to build castles?
William the Conqueror built the castles as part of a new military tactic to strengthen his positions in England. He made them relatively close to each other to resist any local rebellion until the support arrives.
What are features of Norman castles?
The usual features of a Norman Castle are; the motte, the keep(tower), the bailey, wooden palisade, the moat.