Going through all Harry Potter films, there are impressive scenery, graphics and old magical style buildings. But can you find them in the real world?
The castles in Harry Potter are varied and imaginative. One of the movie's high points is the usage of real locations as opposed to a green screen. This is especially obvious when it comes to castles such as Hogwarts, which look absolutely stunning on the big screen.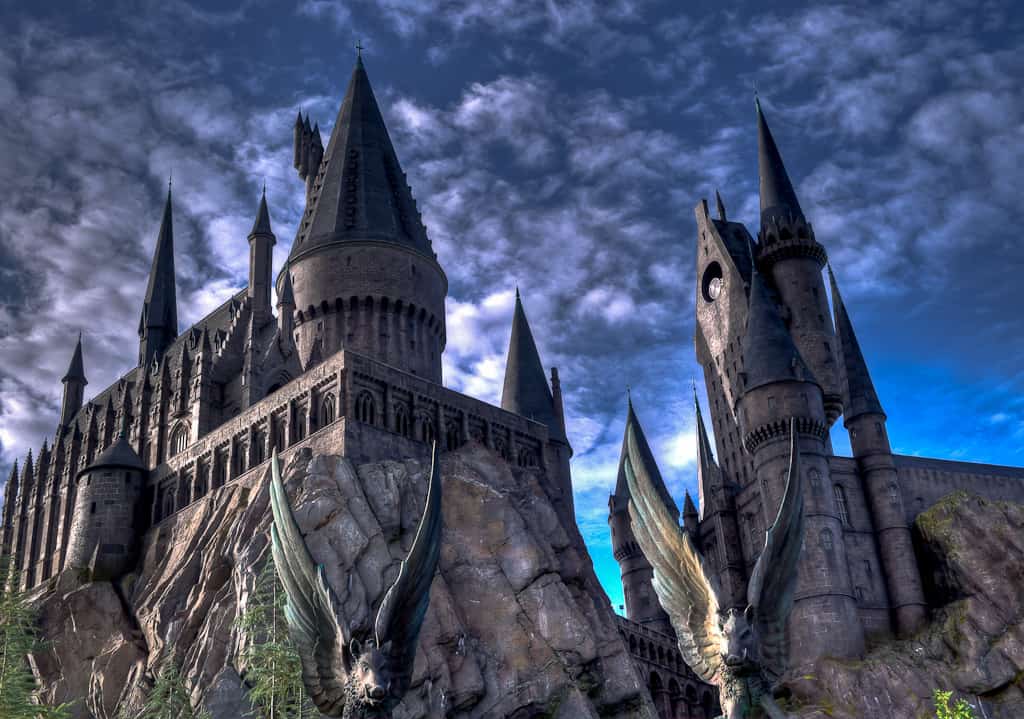 In this article, we'll be going over the castles in Harry Potter that have real-life locations associated with them, as well as pointing out those that don't.
Alnwick Castle(Hogwarts)
Alnwick Castle is the second largest castle in the UK with living inhabitants. It has had its time as an outpost of the British military, as well as a college, refugee centre, and film centre.
It is perhaps most famous for being part of the filming of the first and second Harry Potter films. Its use started in autumn 2000, as a setting for the Philosopher's Stone Hogwarts.
While it isn't the only castle that has represented our favourite school of magic, it is the most famous and often used.
Within its Outer Bailey, there is a recognizable section where the students of Hogwarts were receiving flying lessons by Madam Hooch.
This is also where our protagonist was taught the fundamentals of Quidditch.
They were also using Alnwick's other baileys as a filming location for many scenes, where Hogwarts students were tending to their daily business.
Furthermore, it was part of one of the series' more iconic moments. When Ron and Harry took to the skies in the Weasley's car, and then they crashed into the Alnwick Castle's inner bailey.
The Lion Arch, displayed on the big screen as a way in and out of the wizarding school, with the roads towards Hagrid's hut and the Forbidden forest well in view.
This is by no means all that is to be found within the castle today.
Today, the castle has fully embraced its Harry Potter heritage, incorporating a variety of fun and engaging activities to its guests.
Besides this, the castle also features a medieval arts & crafts group, as well as a "Dragon Quest" where visitors are free to live their epic tale.
If you're a fan of Harry Potter and want to see where it all began, pay a visit to Alnwick Castle in Northumberland.
Universal Studios – Florida(Various)
While none of the castles in Universal Studios is currently being lived in, they were made for the filming.
For example, you can see many of the locations where filming Harry Potter, including some scenes of Hogwarts and other schools.
While none of these is the magnitude of the castle used in the shoot, they present the world of Harry Potter in another way.
You can see a variety of replicas of many scenes in the movie, including a replica of Hogsmeade.
There's also a variety of Harry Potter-inspired attractions to be found within.
Buckingham Palace
While the Royal family's residence didn't play a large part in Harry Potter, it was still shown on the big screen.
Buckingham Palace appeared during the scene where the Order flies on their broomsticks above the city.
This scene in The Order of the Phoneix (2007) had clean shots of many of England's most beautiful landmarks, including the palace.
Before they arrived at Sirius Black, they flew over most of the notable monuments in the city of London, including Buckingham Palace.
Buckingham Palace which is also one of the most expensive palaces in the world is open to visitors and features a great deal of British history.
With a total of 775 rooms, if planning a visit, you will find something that interests you.
The American School Of Magic
There's another castle used in the Harry Potter spinoff "Fantastic Beasts and Where To Find Them" where J.K. Rowling has confirmed that there's another school of magic in the US.
Fantastic Beasts and Where To Find Them takes place in New York City, there, Newt Scamander meets a variety of people who were taught by an American School of Magic.
It is also revealed that this school is not whin NYC, but is instead of immigrant origin.
Pottermore shows us that there's a total of 11 wizarding schools in the world.
While it was not confirmed nor denied in using a real castle for the shooting, Rowling might reveal its valid location someday.
Those That Aren't Real
Now, you might be a bit disappointed that a lot of the castles you've seen in the movies aren't real.
For example, the depiction of Beauxbatons Academy in France is entirely CGI, as well as all of the other castles you've seen.
Computer-generated effects persist even in some later shots of Hogwarts.
With that being said, a variety of other locations was used for the shoots.
If you're looking to experience more of the Harry Potter universe in real life, you might find that it suits your needs to go through the variety of cathedrals such as Gloucester Cathedral.
At the Glouchester Cathedral, many of the Harry Potter fans report a genuinely magical experience.
This cathedral is featured in the Philosopher's Stone, Chamber of Secrets, and the Half-Blood Prince.
It was used to display the interiors of Hogwarts, and the interior of the cathedral makes for some easily recognizable shots.
A variety of other locations such as the Millenium Bridge and Australia House were used in the shooting of the films.
Conclusion
To recap, the only two actual castles that were used in the shooting of the Harry Potter films are Alnwick Castle and Buckingham Palace.
While that is true, it is worth saying that both of these locations are well-worth visiting.
Alnwick Castle has fully embraced its identity as part of the Harry Potter shoot and offers a variety of fun activities for adults and children alike.
It is also simply a gorgeous location to spend a weekend at, and it is simply a trove of history and wonder.
Buckingham Palace was only used in a single shot; however, it is by far one of England's biggest tourist attractions, and its entire architecture is somewhat reminiscent of the Harry Potter universe.
Universal Studios in Florida offers by far the most genuine Harry Potter showcase.
While it lacks in any real history, if all you want to do is relive the locations from the movies and have an interactive time, this is the place for you.
While the American school of magic revealed in "Fantastic Beasts and Where To Find Them" might not be real, only time will tell.
If you're willing to extend your definition of "castle" a little bit, there's a variety of impressive cathedrals and buildings that you can visit.
Finally, while a lot of the castles in the movies are purely CGI, visiting European castles is bound to show you where the inspiration came from.
Even if they weren't used in the shoots, castles like Château de Chambord offer a Harry Potter vibe and let you take a peek into Rowling's mind as she was thinking of them.
However, if you're in the US and ask yourself if there are any castles in your country, we suggest checking out our recent article about castles in America.
Thanks for reading the article please check our blog section for more articles about history, travel, and the movies where castles have been used.